Discover your own spiritual greatness. "Tucked away in the hidden places of this book are clues as to how you too may reach the glories of God," says Sri Harold Klemp.
Autobiography of a Modern Prophet is a special compilation of Sri Harold's three autobiographical books—The Wind of Change, Soul Travelers of the Far Country, and Child in the Wilderness. He spent many hours writing new material, carefully weaving one, continuous story to help others climb the Mountain of God.
In the introduction he says, "This book is about God-Realization and the myths that surround the highest state of spiritual realization known to mankind. The first and greatest illusion is that once God-Realization is attained, the battle for higher consciousness is forever won. This oversimplifies things.
"The hard part came after God-Realization. Now I had to return to the problems of life and confront them. The specter of God's haunting love was always with me. . . . It carried me beyond the pleasant cooing of belief and faith, thrusting me into a brilliant world of light shorn of all illusion."
This riveting story of Sri Harold Klemp's climb up the Mountain of God is a landmark for the twenty-first century. Believe it or not, it is your destiny to discover your godlike nature.
See the complete Table of Contents.
(large paperback, 468 pages)
Autobiography of a Modern Prophet is available for $9.95. Now is a great time to discover a spiritual classic that has inspired people around the world!
Comments from readers:
Wow. Good reading is putting it mildly. Autobiography of a Modern Prophet is a riveting book that indeed equals the classic best-seller Autobiography of a Yogi. —Lynn S. La Froth, editor, Twin Cities WELLNESS
Proves nothing is impossible! Fascinating, easy to read. —Gerald Jampolsky, MD, author, Shortcuts to God.
Engagingly written. Especially useful for readers to chart their courses in the 21st century. —Stanley Krippner, PhD, coauthor, The Mythic Path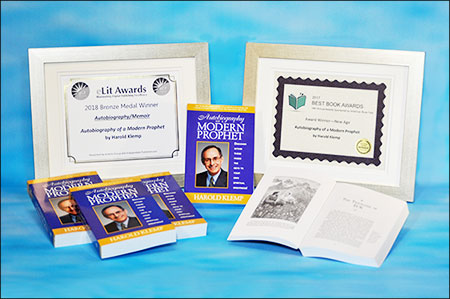 The e-book edition of Autobiography of a Modern Prophet won the American Book Fest 2017 Best Book Award for New Age: Non-Fiction. The book was selected by a distinguished panel of industry judges from two thousand entries. The book is also a bronze medalist in the 2018 eLit Book Awards for Autobiography/Memoir—a category with this year's most entries.
Sri Harold's remarkable spiritual journey is a landmark for the twenty-first century. His fascinating memoir reveals keys to discovering your own godlike nature and embracing spiritual greatness.